Neighbouring Transmission System Operators
The NET4GAS transmission system is directly connected to the systems of all transmission system operators in neighbouring countries except for Austria.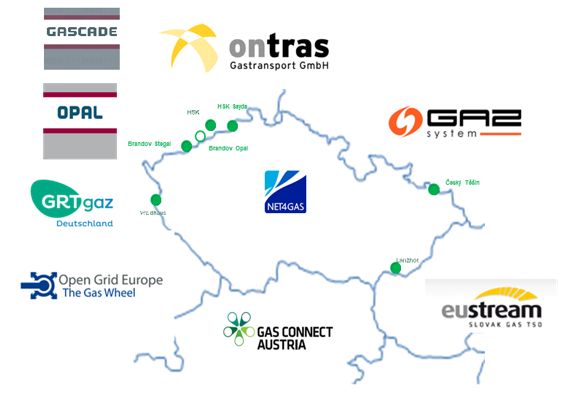 Traders requesting to use the NET4GAS transmission system to transport gas to foreign virtual points must also book transmission capacity with the following transmission system operators in neighbouring countries:
NetConnect Germany Trading Zone (Germany)
GASPOOL (Germany)
Since 1 November 2018, transmission capacity has been sold on the German side of the border in the GASPOOL trading zone only by the following operators:
GASCADE Gastransport for the VIP Brandov-GASPOOL virtual border point, and
OPAL Gastransport for the Brandov-OPAL physical border point.
Slovakia
Poland
Austria
Since 1 October 2018, transmission capacity between the Czech Republic and Austria has been sold in the framework of the pilot phase of the Trading Region Upgrade (TRU) Service.