Company profile
Our services
International transit of natural gas across the Czech Republic
National transmission of natural gas to our partners in the Czech Republic
Operation of a flexible, demand-oriented transmission system, and the provision of associated commercial and technical services
NET4GAS at a glance
Holds an exclusive gas Transmission System Operator (TSO) license in the Czech Republic
Transmits about 45 billion m3 of natural gas annually (of which around 8 billion m3 is for domestic consumption)
Operates more than 3,800 km of pipelines
Operates three border transfer stations, four compressor stations and nearly a hundred transfer stations at the interface with domestic gas distribution
Is a member of the Czech Gas Association, the international organisations ENTSOG, GIE, EASEE-gas and the IGU and Marcogaz working groups
Has more than 500 employees
Is one of the largest private corporate donors to nature conservation in the Czech Republic.
Is committed to its corporate social responsibility
Our strategy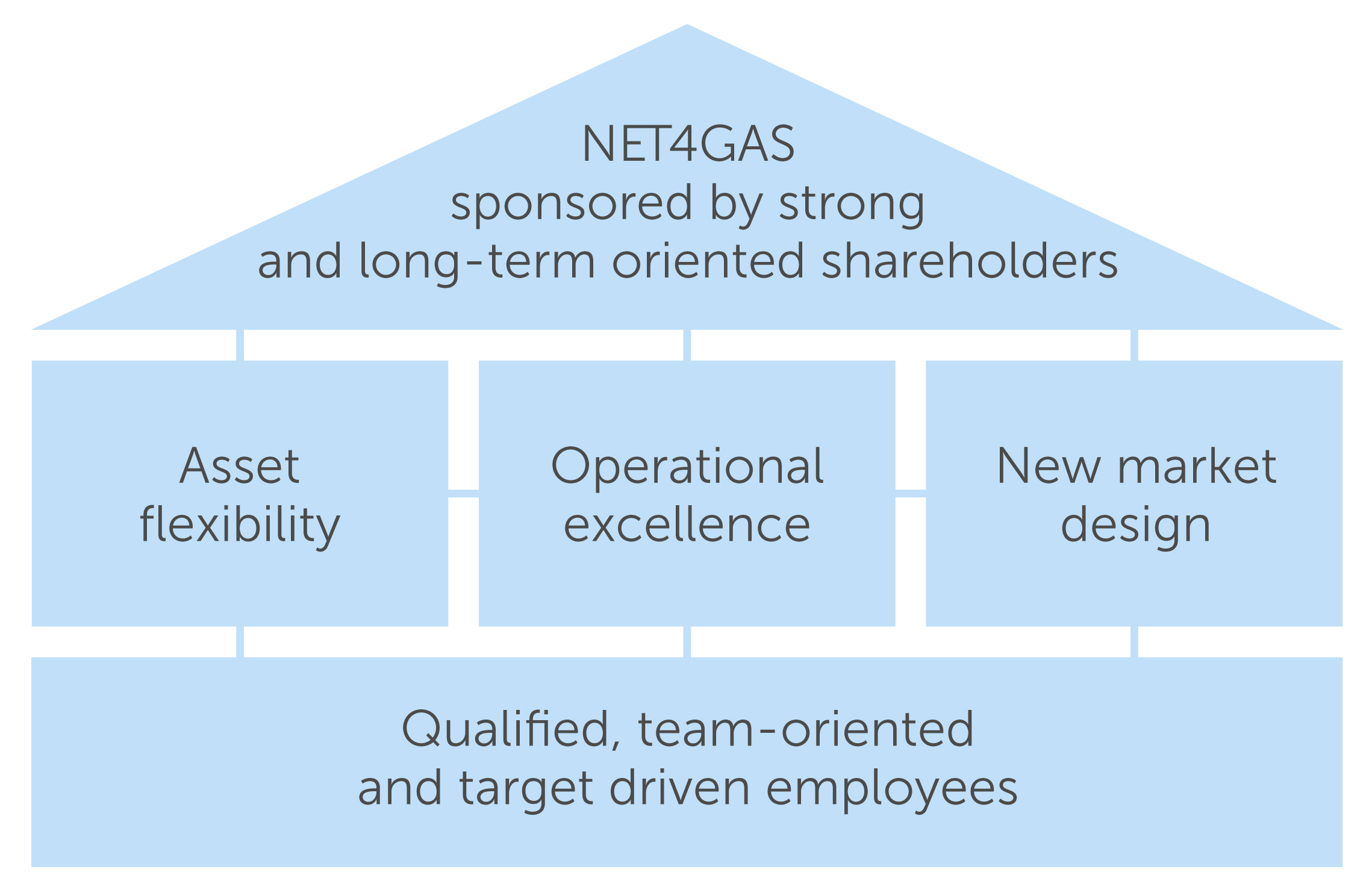 Our mission
Our mission is to secure economically efficient, safe and reliable gas transmission services for our customers 24 hours a day, 7 days a week, and to provide sufficient capacities in all relevant supply situations based on a non-discriminatory and transparent approach.
Our vision
As a Central European gas Transmission System Operator, NET4GAS will play an active role in connecting and integrating European energy markets to the benefit of Czech and other European customers.
Highly qualified employees are our company's foundation stone and most valued resource. Their team-oriented work and target-driven approach are major factors in the company's continuous development, which is clearly focused on the three strategic pillars of asset flexibility, operational excellence and new market design.
Along with the range of attractive capacity products we offer our customers, enhancing our asset flexibility by building and optimising new and existing cross-border interconnectors allows us to swiftly respond to changing gas flow patterns in Europe, while strongly supporting further market integration.
We strive for operational excellence to meet our customers' expectations and to manage the financial and operational demands resulting from increasing fluctuations in grid utilization, regulation and growing competition on energy markets.
We will continue to help shaping the European energy market in the context of the transition to a low carbon economy, and by doing so will contribute to the preservation and enhancement of functioning gas markets, especially in Central and Eastern Europe where we operate.
In achieving our vision and attaining our strategic goals, we receive major sponsorship from our strong and long-term oriented shareholders, who thus safeguard the fulfilment of our company strategy.
We are also fully aware of our corporate social responsibility, and we strictly follow an environmental policy committed to both present and future generations.
Our owner
NET4GAS is wholly owned by NET4GAS Holdings, s.r.o., which in turn is owned by a consortium formed by Allianz Infrastructure Czech HoldCo II S.à r.l. (50 %) and Borealis Novus Parent B.V. (50 %).
Allianz Capital Partners is the Allianz Group's in-house investment manager for alternative equity investments. With offices in Munich, London, New York and Singapore, Allianz Capital Partners manages more than EUR 16 billion of alternative assets. The investment focus is on infrastructure, renewables as well as private equity funds. ACP's investment strategy is targeted to generate attractive, long-term and stable returns while diversifying the overall investment portfolio for the Allianz Group insurance companies.
Allianz represents one of the world's strongest financial communities, offering a broad range of insurance and asset management services. Allianz Group manages an investment portfolio of around 640 billion euros. Additionally, the asset managers Allianz GI and PIMCO manage 1.3 trillion euros of third party money. Allianz serves more than 85m customers in about 70 countries, and is the third largest insurer in the Czech Republic with CZK 12 billion Gross written premiums in 2015. For more information see www.allianzcapitalpartners.com.
OMERS Infrastructure is a leader in direct infrastructure investing with over a decade of investment experience. With offices in Toronto, London, New York and Sydney, OMERS Infrastructure is the infrastructure investment arm of the Ontario Municipal Employees Retirement System (OMERS), one of Canada's largest pension funds with net assets of CAD 77 billion and an AAA credit rating. OMERS Infrastructure manages net assets on behalf of OMERS (CAD 15 billion) and third parties through investments in a diversified portfolio of large-scale infrastructure assets exhibiting stability and generating strong cash flows, in sectors including energy, transportation and social infrastructure. For more information see https://omersprivatemarkets.com or www.omers.com.
Downloads