Transmission system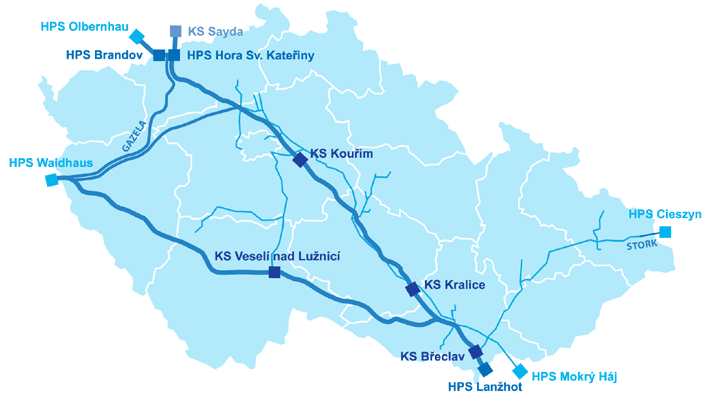 Legend
Border transfer station
Compressor station
Border transfer station abroad
Compressor station abroad
Transit pipeline
Intrastate pipeline
NET4GAS operates pipelines for the international transit and national transmission of natural gas with a total length of more than 3,800 km, with nominal diameters ranging from DN 80 to DN 1400 and nominal pressures ranging from 4.0 to 8.5 MPa.
The required gas pressure in the pipelines is provided by compressor stations located at Kralice nad Oslavou, Kouřim, Břeclav and Veselí nad Lužicí. The total installed power of the compressor stations is 243 MW.
Natural gas is accepted and delivered upon the entry into and exit from the Czech Republic, i.e. its volume and quality are measured at border transfer stations – between the Czech Republic and Slovakia at Lanžhot, between the Czech Republic and Germany at Hora Svaté Kateřiny, Olbernhau, Brandov and Waidhaus. Between the Czech Republic and Poland, gas is measured at Cieszyn on the Polish side.
Northern branch
Southern branch
Compressor station
Kralice
Kouřim
Břeclav
Veselí n/L
Number of turbine units
5x 6 MW
5x 6 MW
9 x 6 MW
9 x 6 MW
2x 13 MW
2x 13 MW
1x 23 MW
Installed capacity of CS
56 MW
56 MW
77 MW
54 MW
Total installed capacity for transmission
243 MW
Natural gas is further transferred from the transmission system via 99 transfer stations at the interface with domestic gas distribution, directly connected customers and underground gas storage facilities. The commercial metering of gas quantities is installed at all transfer stations.
For detailed information about NET4GAS transmission system read The Czech Ten Year Network Development Plan in the section Development plans.